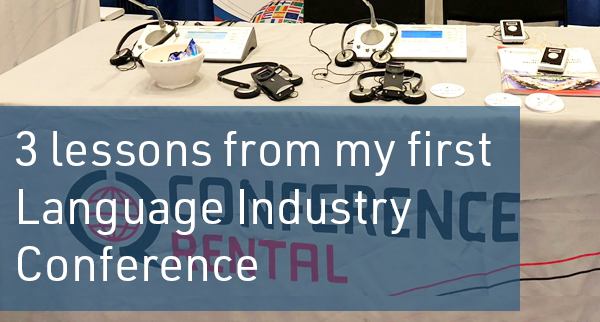 3 Lessons from my first Language Industry Conference
Tuesday, 21 May 2019
An article by Eduardo Santana
Having never attended a conference for the language industry, I wasn't sure what to expect of the Association of Language Companies' 2019 conference in Washington D.C.


According to market research firm Common Sense Advisory, the language services industry currently sits at $40 billion, is predicted to be worth $45 billion by 2020 and has a track record of almost doubling in size in the last seven years.
As an exhibitor with
Conference Rental
, I had the opportunity to meet, talk and listen to a lot of key players in the industry, as well as take away three key learnings from my first language industry conference:
1. This community is a tight-knit group of collaborative professionals


From the first day of the conference, it was clear that everyone in this industry, from interpreters to SaaS enterprises, are working together to grow the industry. During roundtable sessions, keynotes, as well as networking breaks, attendees tackled challenges, successes and new opportunities that could benefit the whole industry, always thinking about the greater good.
This kind of collaborative environment that I got from ALC 2019 echoes what I experience on a daily basis working at Conference Rental. The partnership and drive to move the industry forward across disciplines, from the experts in technology to the interpreters, localization specialists and more, as well as the general passion for foreign languages that everyone shares.
2. This industry is more than just the spoken language


As Marketing Coordinator out of our New York office, I have executed on interpretation-centric strategies. As I learned, despite my focus on interpretation, this industry encompasses a lot more than just the spoken language.
American Sign Language (ASL) Language Service Providers (LSP) have a big role to play in the industry's landscape. In addition to the traditional services LSPs provide for businesses, ASL LSPs contribute to the communication of the general deaf and hard of hearing population.
"Federal civil rights laws require covered entities to ensure effective communication with people who are deaf or hard of hearing", which could entail " an interim solution in the form of off-site interpreting services, called Video Remote Interpreting (VRI)" - National Association of Deaf
In addition to ASL, translation service make up a large part of ALC participants and the whole of the language service industry. With companies that translate up to 50+ languages, to those that focus on their niche and local dialects, translation-focused professionals are incredibly versatile, tackling websites, corporate documents, press releases and much more.
3. Technology has a role to play in the industry


The inherent organizational and logistical flexibility required from the language service business to meet client demands has created opportunities for technology to step in and innovate. From all-in-one payment solutions created to easily pay translators across several countries and keep bookkeeping in check, to contractor management tools, technology companies are trying (and succeeding) to solve companies' pain points and let them focus on providing the services they want to.
I was also able to witness developments in interpreting technologies
, with the rise of new services such as
KUDO
- a cloud-based platform that streams real-time language interpretation to your web meetings and live conference. It provides on-demand simultaneous interpretation and removes the requirement of an interpreter's physical presence, both removing barriers and availability of a highly skilled service such as simultaneous interpretation.